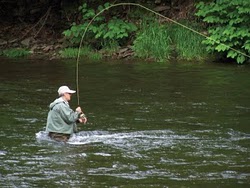 pop.1,827—18.4 per sq. mile
The Roscoe NY real estate market is quite varied.
The low end offers secluded cabins on a few acres, and the upper end offers large lake or river front residences, or homes on much larger parcels.
Roscoe is located in the northern most part of Sullivan County, right on the border of Delaware County.  It is in a valley amongst the Catskill Mountains, surrounded by streams. This area's natural beauty rivals the Adirondacks of the north. Many second home buyers are leery of how far this area is, but Route 17 is a direct shot to Roscoe, making this area perhaps a little further in distance, but less in that all important time in the car.
Nicknamed Trout Town USA, and recently voted the fly fishing capital, Roscoe has long been a favorite spot for the angler. The Beaverkill and the Willowemoc Rivers come together at Junction Pool, just outside of town where giant rainbows and "brownies" patrol the waters. Every year on April 1st, opening day, there is a ceremonial first cast into the waters of Junction Pool.
The town itself is a cute little upstate town, with a bunch of fly fishing shops, a few really good eateries like The Rockland House where you can dine on locally caught trout, NY City Gyro, which has a menu exactly as you would imagine and of course the famous Roscoe Diner, where college kids have been stopping for generations.
Other attractions include Chrystal Lake, 1200 acres of state land for hiking and exploring, and Tenannah Lake Golf and Tennis Center, which is an 18 hole course with a great clubhouse with fify mile views.
If you are looking for wide open spaces, then this area is probably not for you. Most of this area is wooded, and the homes are tucked away on five or so acres. There are a few lakes in the area. Tenannah Lake is a large motorboat lake that has an Adirondack feel. It has a newly opened hotel at the far end. This is a nice place to spend the weekend.  Lake Muskoday is also nearby, with some more affordable homes and cottages. Taxes and seclusion make this area the sleeper hit of Sullivan County.
We are one of Sullivan County's leading provider of home ownership services for Roscoe NY real estate for sale. Contact us today to sell real estate or buy real estate in Roscoe, New York. Our Realtors and real estate agents specialize in the Roscoe, NY real estate market. Whether you are buying or selling a new home, we will help you find a property by map, MLS listing number, or price. With over 2000 homes for sale in Sullivan County NY, we are your one stop destination for the latest Rosoce, NY real estate listings, virtual tours and open houses in Rosoce, New York.
Below is a great video about fly fishing– the history of it and how it is woven into the fabric of this region.