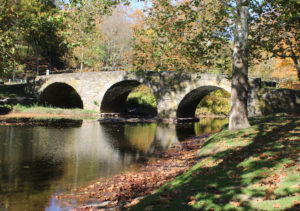 pop. 4,328—71.2 per sq. mile
Jeffersonville NY real estate varies from your typical farmhouse with a barn, to more modern homes–either in town charmers or homes that are secluded on a few acres.
Jeffersonville is probably the closest Rockwell-esque town that Sullivan County has. It has your traditional Main Street, lined on either side with store fronts. There is a pizza shop, a little country pharmacy, a hardware store, and a diner. There are a few church steeples that give it that nice country town feel. Jeffersonville had its own rejuvenation. There are a bunch of restaurants and stores that have opened over the last few years.  For example  Jeffersonville Bake Shop, is a pastry and pie shop with some pretty delectable treats,  the Jeffersonian, a B&B in a beautiful center stair Colonial, and Honey Hill Pottery on Diehl Road.
The Villa Roma Resort is just a few miles away with winter downhill skiing, an eighteen hole golf course, and a bunch of summer activities.  Kenoza Lake, an upscale lake development is also nearby.
Some activities in Jeffersonville include a Thanksgiving Parade, and a weekly flea market and farmers market.
WJFF 90.5 Radio is located just outside of town at the end of Lake Jefferson. It is the nation's only hydro-powered radio station, (it gets all of its power by the lake's runoff over the dam.) It is a public radio station, so programming is of the BBC/Lake Wobegone variety. It needs to be listened to on a small radio, on the front porch, during a summer evening to be really appreciated.
Homes in and around Jeffersonville tend to be more of the farmhouse variety, although others do pop on the market from time to time. Jeffersonville is farm country, no doubt about it, and some of the best views in Sullivan County can be found in these wide open stretches. If our county had a "big sky" section, this would be it.
Jeffersonville Business Association
So What Does Jeffersonville have to offer?
1) Shopping.
For a small town, Jeffersonville has its fair share retail shops and storefronts. These include:
Global Home–A home decor boutique on main street with unique furniture, accessories and gifts both designed and found through travels by the owners. Owners Vivian and Joe are corporate drop outs (so to speak) from NYC who came to Jeffersonville shortly after 9/11 and opened up this great shop. They also offer home decorating services, and consulting. They have recently opened another shop in Beacon, NY and plans are in the works for one downtown Manhattan. Stopping at Global is a must if you are in Jeffersonville.
The Rustic Cottage–Offering custom one-of-a-kind homemade furnishings. Owner Michael Barber is a very talented craftsmen who produces these high end, yet unadorned pieces, using some of the finest woods available. If you own a country home in the Catskills, it must contain at least one piece from The Rustic Cottage.
We are one of Sullivan County's leading providers of home ownership services for Jeffersonville, New York real estate for sale. Contact us today to sell real estate or buy real estate in Jeffersonville, NY. Our Realtors and real estate agents and brokers specialize in the Jeffersonville, NY real estate market. Whether you are buying or selling a new home, we will help you find a property by map, MLS listing number, or price. With over 2000 homes for sale in Sullivan County NY, we are your one stop destination for the latest Jeffersonville NY real estate listings, virtual tours and open houses in Jeffersonville, New York.