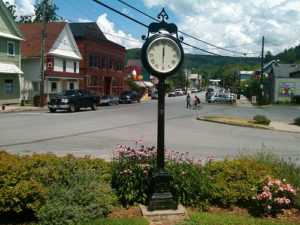 pop. 3,212—112 per sq. mile
Livingston Manor is located along the Route 17 artery that cuts through the northern portion of Sullivan County. Catskill State Park, borders the town to the north. Originally part of the Hardenburgh Patent, Livingston Manor was named Purvis until mid 19th century, and although it was never part of the famous Robert Livingston Manor, it was renamed because some of his relatives settled there and were instrumental in the growth of the town.
Present day Livingston Manor is a quaint eclectic upstate village with shops, eateries and art galleries. The famous trout stream the Willowemoc runs directly through the center of town, making a modest promenade along Main Street. Area attractions include The Catskill Fly Fishing Museum, a facility that "honors the heroes of the sport and expresses the lore and lure of fly fishing."
The Catskill Arts Society is located on Main Street in Livingston Manor in the C.A.S. building. They have various exhibits and classes and events throughout the year.
Other attractions in this area are the abundant trout streams and lakes, a DEC fish hatchery which produces 115,000 pounds of brown trout annually, and a working old fashioned cider mill with hiking trails and waterfalls.
To the south is Shandelee Mountain, along Debruce Road. Homes are tucked away on larger parcels here, the terrain is a bit hilly with a mix of wooded and open farmland. Low taxes and seclusion make this area desirable.
To the north into Catskill State Park is the Lew Beach area. This is a fiercely protected tract bought by a Rockefeller descendant in the 80's who pledged to keep this area forever wild. Houses here are substantial without being ostentatious, and are hidden away on large parcels. There are a few well known celebrities who have chosen this quiet spot to get away from it all.
If you are interested in the Livingston Manor, Debruce, Shandalee area, give me a call. I will be happy to explain your options. Although desirable, priced right homes may be a bit difficult to find here, they are out there. Sometimes it just takes a bit of searching.
We are one of Sullivan County's leading providers of home ownership services for Livingston Manor NY real estate for sale. Contact us today to sell real estate or buy real estate in Livingston Manor, New York. Our Realtors and real estate agents and brokers specialize in the Livingston Manor, NY real estate market. Whether you are buying or selling a new home, we will help you find a property by map, MLS listing number, or price. With over 2000 homes for sale in Sullivan County NY, we are your one stop destination for the latest Livingston Manor, NY real estate listings, virtual tours and open houses in Livingston Manor, New York.