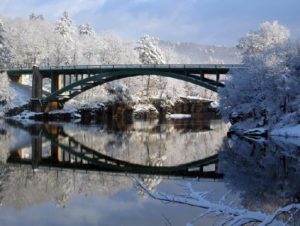 pop. 2734—56.4 per sq. mile

Narrowsburg lies south of Callicoon along the banks of the Delaware. Perched above a wide eddy, with a large feed mill at the end, this little river hamlet has an industrial/frontier feel to it. The Delaware Valley Arts Alliance is headquartered on Main Street in the grand building that was once the Arlington Hotel. They have galleries and exhibits throughout the year.  The Delaware Valley Opera also calls Narrowsburg home, and holds various concerts at the Tusten Theatre, as well as other spots around Sullivan County.
There are a number of eateries and a great little coffee shop. As well as a barber shop that is like walking into 1952.
Summer events in Narrowsburg include a spectacular Fourth of July fireworks display over the river, Riverfest, a two day street fair, and Eaglefest another outdoor festival celebrating the Bald Eagle that populates this section of Sullivan County.
Homes in and around Narrowsburg range from riverfronts to secluded spots with some acreage. There are not any sort of substantial lakes in this region, but if a quiet spot a few miles from town is what you are looking for, perhaps you should explore Narrowsburg further. The rural area around Narrowsburg tends to be more wooded than open farmland. Many of the houses outside of the hamlet are on wooded parcels, offering privacy and seclusion. Weiden Lake, a lake community with houses on 5+ acres, is nearby.
Recently there have been a few good write-ups in newspapers about Narrowsburg. This one in the New York Times captures the essence of Narrowsburg.
There are a nice bunch of restaurants in Narrowsburg, including The Laundrette Which is a cool wood fire pizza place (among other items) that looks out over the Delaware River. The Heron on Main Street is another great little eatery with a back deck that looks out over the Delaware. This is a great place for brunch, (or any meal for that matter.)
Narrowsburg Chamber of Commerce
We are one of Sullivan County's leading providers of home ownership services for Narrowsburg NY real estate for sale. Contact us today to sell real estate or buy real estate in Narrowsburg, NY. Our Realtors and real estate agents and brokers specialize in the Narrowsburg, New York real estate market. Whether you are buying or selling a new home, we will help you find a property by map, MLS listing number, or price. With over 2000 homes for sale in Sullivan County NY, we are your one stop destination for the latest Narrowsburg, NY real estate listings, virtual tours and open houses in Narrowsburg, New York.
This is a great time lapse video pointing at the bridge over the Delaware from pre-dawn to dusk.