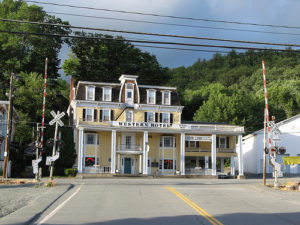 pop. 3,036—62.7 per sq. mile
Located along the banks of the Delaware to the west, Callicoon boasts to be the dining capital of the county.
There are a half a dozen eateries along Main Street, including Matthew's on Main which has a great outside deck, 1906 Restaurant for steaks and chops, Landers Café which looks out over the river, and has more casual/diner fare, and Peppino's Pizza for a good all around Italian meal.
There is also a great wine store with a rotating selection of unique wines all for under thirty bucks. He also sells some great cheeses.
This tiny hamlet also has the only movie theater in Sullivan County. It is a cavernous building built in 1940 which evokes instant cinematic nostalgia when you walk through the door. Catching a summer move here is a must. Callicoon theater.
There have been some notable openings in town. The Callicoon Brewery opened in the old firehouse building. They offer a selection of different home brews, and the menu is very corned beef served with fries. The ambience can't be beat. Highly recommended for a place to grab a bite and a pint. The Western Hotel changed hands and reopened in the spring of 2017. The hotel was built right after the Civil War, and much of the original structure and finishing remain. The dining room is quaint and the food is delicious. They Sunday brunch menu is delicious.
Callicoon Creek Park holds events throughout the summer including a Sunday farmers market all summer long, and  various blanket-on-the-grass concerts including the must see Barbeque Bob and the Spareribs. Other events include a tractor parade, a street fair, and a canoe regatta. There is also a great antique shop, a flea market, and a little library that smells exactly like it should. (Something that Apple will never be able to duplicate.)
Once a town that relied heavily on the railroad that bisects it, Callicoon still has that "last stop" town feel to it. Actor Mark Ruffalo has a home in this town, and a few other celebs have chosen to low key it here, including Debra Winger and JayLo. However Callicoon is beginning to get discovered. In June 2017 Country Living Magazine voted Callicoon best small town main street in America.
Homes in this area are pretty diverse. Along River Road to the north, the houses look out over the Delaware. Around town there is open farmland, where you can get a farmhouse on some acreage,  and there is also heavily wooded areas, where you can get a little getaway secluded amongst the trees.
For those interested in the history of the name, it comes from the Dutch "Kolinkoonkill" meaning Wild Turkey Creek.
Callicoon Business Association
We are one of Sullivan County's leading providers of home ownership services for Callicoon NY real estate for sale. Contact us today to sell real estate or buy real estate in Callicoon, New York. Our Realtors and real estate agents and brokers specialize in the Callicoon, NY real estate market. Whether you are buying or selling a new home, we will help you find a property by map, MLS listing number, or price. With over 2000 homes for sale in Sullivan County NY, we are your one stop destination for the latest Callicoon, NY real estate listings, virtual tours and open houses in Callicoon, New York.
Below is a neat little video of a bikers eye view on a fall day through Callicoon.