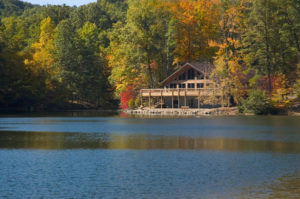 The Sullivan County Catskills has long been a place where people migrate too in the summer for the clean mountain air, and cool spring fed lakes. The demand for these spots has driven the price up, and lakefront real estate here in Sullivan County is some of the priciest we have. There is a wide array of properties however, with an equally wide range of lakes, (over 25 at last count) to suit everyone's taste. However good—priced right lake fronts can be tough to find, and get snapped up pretty quickly. Below is a bit more info on the different lakes, and what they have to offer.
  Motorboat Lakes
Swinging Bridge—1,100 acres—Nine miles long, this lake has many different types of lakefront homes. Part of the Chapin Estate extend to Swinging Bridge. Generally speaking, between 350K to 750K is the range of homes on Swinging Bridge. However there are a few that top two million.
Toronto Reservoir—862 acres Almost exclusive to Chapin Estate, this lake has an Adirondack, secluded feel. Houses here can go as high as four million.
Swan Lake—300 acres—Left over era of days gone by–Borscht Belt heyday. Most houses are bungalows and   small cabins, with some newer style homes mixed in. Range 250K and up.  Lake is beginning a renaissance with various dining on the water spots, and entertainment.
White Lake—340 acres—Similar to Swan Lake, perhaps with some larger and more updated lake fronts
Mohican Lake—280 acres— Mohican is a lively lakefront community with small parcels clustered around the lake. For most of the lakefronts, there is a road between the water and the homes. (There are a few houses at the north end of the lake that do not have this, but most do.) There is an optional home owners association one can join, but there are no other amenities offered besides the lake. Many of the lakefront parcels have had "shares" written into the deed years ago, meaning the lake frontage is shared with an owner who owns a home a few streets off the lake. Mohican is not to everyone's taste, but if you are on a budget, this is a real nice option to own on a Sullivan County motorboat lake.  Range is 200K to 500K for lakefront, and under 100K for lake access.
Highland Lake—250K—Highland is quieter than Mohican with homes having a more suburban feel.  Range is 300K and up. 
Tennanah Lake—280 acres—Further north, with a bit more seclusion, Tennanah is a private lake, guarded fiercely by its residents. This lake has a real nice Adirondack feel to it as well. Because of its appeal, homes on this lake are rarely below 400K.
Hunter Lake—225 acres—Older lake community with a classic 1940's feel. Dirt roads lead into the lake, and the area is mountainous and wooded. Many of the lake access cabins will go for under 100K, however they are seasonal. Some of the more substantial lakefront homes will be in the 300K range.
Other smaller motorboat lakes include Masten,  and Sackett Lakes.
 Non-Motorboat Lakes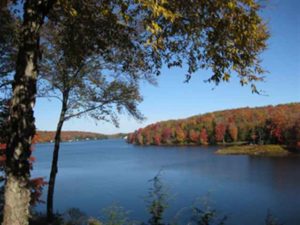 Yankee Lake—408 acres—Yankee is an older lake community with a bit of a mish mash of different styles. Yankee is a quiet lake with close proximity to Route 17, and a nostalgic feel, as if families have summered here for generations. It is one of my favorites. Range is 300k and up.
Wolf Lake—340 acres—Another quiet Sullivan County Lake with mostly small cabins and bungalows. Residents of Wolf are vigilant in keeping this lake private and serene. Property for sale on this lake is rare, and disappears quickly. Range is 200K to 500K.
Wanaksink Lake—250 acres—Lake development with a more suburban feel. There are association dues with access to pool and tennis courts (as well as the lake for non lakefront homes). Range 250K to 700K.
 Lake Louis Marie—270 acres—Very similar to Wanaksink. Homes are on smaller parcels, mostly under an acre. Some restrictive covenants.  
Lake Joseph—230 acres—Another electric motor only lake community. Houses are only on one side of the lake, so views are at a premium. There is a pool and tennis courts for the residence, but the association is a bit less formal and relaxed. Range is 300K and up. Some vacant land parcels are also available on this lake.  
Black Lake—200 acres—Black Lake is a newer lake development (1980's). Homes tend to sit on larger parcels with a bit more privacy (5 acres or more). There are some pretty restrictive covenants designed to preserve the environment and minimize the human footprint. The result is a Minnesota wild feel to Black (and its smaller sidekicks Clear and Meyer) Lakes. No motorboats allowed, but electric motors can be used. Range is 350K and higher for lake access and 600K to over a million for lakefronts.  
Lake Loch Ada—140 acres—Loch Ada was originally part of the Singer sewing machine estate. It is secluded with a summer camp on one side, and dirt roads surrounding the lake. Range is 350K and up. Some land parcels available with lake access.  Other non-motorboat lakes here in Sullivan County are:  
York Lake—92 acres.
Lake Devenoge—85 acres.
Lake Superior—250 acres.
And of course the size of the lakefront home you are searching for makes a difference. Many of the older, more traditional lakes here in Sullivan County have fairly small houses on them. A fifteen hundred square foot home was once considered quite large, and most topped out at around 1,000 with only two bedrooms and one bath. Many were not winterized with no real source of heat, and the water supply was haphazard and normally not below the frost line. And now with the demand for lakefront driving up the prices, it is difficult to get a traditional mortgage on a seasonal dwelling such as this. Sometimes creative forms of financing are necessary to get homes like these sold.
Some lakes have organized "community" events and facilities. These include Merriewold, Emerald Green, Wolf, Wanaksink, and even Chapin has an optional lake club, which includes full gym facilities as well as a large array of personal services. However if your vision is a hidden away cabin on a lake, secluded from others, perhaps Tennanah, Loch Ada or Tanzman is more your style. Privacy is at a premium however. Often to fit into your budget constraints, some concessions must be made. 
There are a wide array of lake communities here in Sullivan County. All the way from Chapin Estate, with homes up to 10,000 square feet in the 3 plus million range, to Mohigan Lake, where you can buy a lake access cabin in the 85K range.