Your Listing Has Expired, Now What? Why Should You List With Me?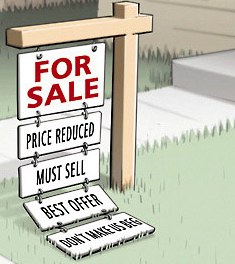 If you are reading this, then chances are you have received a postcard from me letting you know that your real estate listing has expired off the market, and you are currently not represented by a real estate agent. Perhaps you are planning on re-listing with that agent, and just haven't gotten around to it yet, or you are waiting for the paperwork from the agent, or perhaps maybe you were not even aware that your home is off the market.
However, before you move in any new direction, I would like to have the opportunity to meet with you and let you know what I what would do differently to sell your home. We are in a real estate seller's market, so if your home has not sold, there is an issue that is preventing that from happening. Price is always the easiest culprit, however I am committed to getting the highest and best price for my sellers. 
Last year I sold EVERY listing I had.  I do things a bit differently than other brokers. I have an aggressive marketing campaign that pinpoints buyers, and gets properties sold.
I do a complete PA (Price Evaluation) before I go to the listing appointment. I derive my recommended price by doing careful research on what other homes are selling for in your neighborhood. Click here for an example. Even after we meet, if you decide not to list with me, the PA is yours, free of charge.
Right now we are in a sellers market with homes only lasting days on the market. Your home should sell and sell quickly if it is marketed correctly.
The company I am affiliated with–Keller Williams–has an advertising plan in place that is specifically tailored to each individual property. We are a national company with a powerful brand behind us.  No two houses are the same, and how you market and sell a house should not be the same. Gone are the days where an agent can put a house on the MLS and sit back and wait. A real estate commission is a large amount of money. I only ask for a few minutes of your time so I can explain how I am the right agent to sell your home and earn that commission.
I was born and raised here in Sullivan County, so I know the local market. I know what homes are selling for and what makes them sell. All I need it thirty minutes of your time to explain why I know I am the best agent to get your home sold–that is the commitment I make to all my sellers.
The last six (or twelve) months did not result in the outcome you had hoped. If you re-list with the same agent, what will happen that will result in a different outcome?
Give me a call today.
Why list with me?
I am a lifelong resident of Sullivan County, and I have been representing sellers here for over 13 years. You get a full time experienced real estate broker who has seen it all, and is ready to sell your property for the most money in the fastest amount of time. I am honest, hardworking and I take the duties of representing you as a listing agent and selling your home very seriously. For most, a house is the single biggest investment one has, plus it represents a little spot on this earth where you have chosen to call home. Change can be scary, let me help you make this process one you don't have to worry about.
I have aligned myself with Keller Williams because:
With Keller Williams you get:
Powerful Advertising: Keller Williams Hudson Valley spends more money per listing than any other real estate office in Sullivan County. We use online and print ads as well as mailers and social media outlets. Your home will get the most possible exposure. We utilize a professional photographer, as well as virtual tours and where applicable a drone.
Online Dominance: Keller Williams is the most visited real estate brand on the web and is also recognized as the most influential real estate brand on social media. Additionally KW syndicates your home to the top real estate websites around the world.
Performance: Nationally, KW is the #1 real estate company, selling over $771 million in real estate every day! with a total of $209 billion annually. Locally Keller Williams Hudson Valley  is the largest KW office in New York State.
Stability: Founded in 1972 Keller Williams has a legacy of stability and reliability. KW believes in giving its agents free reign while giving them support 
Ethical: One of the founding principles of KW is that of utmost honesty and integrity. Base on the principles of "win/win"
Global Presence: Keller Willaims has a global reach with offices in every U.S. state and 49 other countries and territories.
Buying and selling real estate in today's market can be more challenging than ever before. Having confidence and trust in your REALTOR® makes all the difference. Our commitment to our clients is to provide the most up-to-date and comprehensive information in the marketplace so that informed decisions can be easily reached.
I have quite a few reviews online from past clients. All say the same thing. I return phone calls. I am empathetic of your process. I handle the issues that come up. My goal is to honestly and fairly make you the most money in the least amount of time. A commission is a larger sum of money. It should be earned.