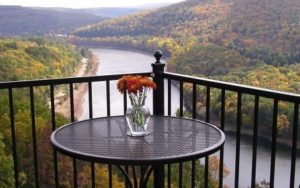 AVAILABLE BARRYVILE PROPERTIES
pop. 2,126—56.9 per sq. mile
Barryville sits on the Delaware River in the southwestern part of Sullivan County. It is another small town that has undergone a bit of a renaissance over the past half decade, and a few nice shops and eateries have sprung up. The River Market, kind of anchors the town. It has great coffee including my favorite called River Mud. Also its sandwiches and pastries are always fresh and delicious. The Barryville Emporium is a pretty substantial antique shop, and The Carriage House is a restaurant housed in a grand old turn of the century building right along Route 97.
Downtown Barryville is blink and you'll miss it small, but it has some of the best hidden gems of anywhere in the county. Ecce is just outside of town, perched high above the Delaware River. The views from this unique bed and breakfast really are spectacular. The Roebling Bridge is another attraction with a great picnic area right on the river (on the PA side).
The Roebling Bridge was originally built to be used as an aqueduct to ease river traffic late in the 19th century. The whole Barryville area was settled because of the river, and the fact that the surrounding hills were full of timber. (Timber that the quickly growing cities of New York and Philadelphia desperately needed). The D & H Canal was also built along this strip, to further river commerce. Large sections of it still remain, and the engineering of this waterway really is something to see.
The area around Barryville today is somewhat Delaware River touristy with numerous by the river campgrounds, with canoeing and rafting tours, rentals and launch sites.
The terrain around Barryville is wooded and mountainous. There are a few lakes, both motorboat and non. Lake Loch Ada is a personal favorite of mine. It is a secluded non-motorboat lake hidden away with only dirt road access. The vibe is very 1945 summer vacation.
The fact that it is under a two hour drive to Manhattan, and only a twenty minute drive to the nearest Metro -North train, makes this area popular among second home buyers. There always seems to be some inventory available on the market here, however like anywhere else, sometimes it takes a bit of digging to find the good ones. If you are interested in the Barryville area, give me a call. I would be happy to explain your options.
We are one of Sullivan County's leading providers of home ownership services for Barryville NY real estate for sale. Contact us today to sell real estate or buy real estate in Barryville, New York. Our Realtors and real estate agents and brokers specialize in the Barryville, NY real estate market. Whether you are buying or selling a new home, we will help you find a property by map, MLS listing number, or price. With over 2000 homes for sale in Sullivan County NY, we are your one stop destination for the latest Barryville, NY real estate listings, virtual tours and open houses in Barryville, New York.
Below is a neat little video of a drone's eye view of the Hawk's Nest, a 3 mile stretch of Route 97 carved into the side of a mountain high above the Delaware River. Don't miss this spot if you are in the area.